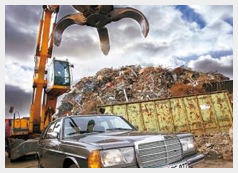 For more than last ten years Auto Wreckers Edmonton from the very bottom of its heart has been serving Edmonton and the people of its surrounding areas. Now, apart from Edmonton we have also been serving people living in Sherwood Park, Stony Plain, St. Albert, Leduc, Beaumont, Spruce Grove and other surrounding areas in Alberta, Canada. If you think your old accident car is becoming a big liability for you, then come to us. Our highly skilled and well trained professional will assist you in this regard.
We offer a very good opportunity to the people have been facing an irritating experience due to their clunker. Many have damaged and wrecked cars, and even flooded vehicle. People seriously want to get rid of their damaged autos. We at Auto Wreckers Edmonton assists you in a better way to dispose of your old clunker. Our efficient team of enthusiastic professionals and skilled mechanics can suggest you a better way to earn money instead of your useless car.
Auto Wreckers Edmonton offers you a full auto service for your old as well as used vehicles. It provides you the towing service, replacement auto parts and used tires for all the make and models. There is a huge, vast automobile parts inventory collection at Auto Wreckers Edmonton which enable it to compete in the market. The specialized staffs have proper education in dealing all types of vehicle whether it may be car, truck, van or SUV. We deal used automobile, wrecked car, totalled vehicle, accident-car, junk auto or salvage car. The best way of getting rid of your clunker is to sell it off to us for cash. We give at spot cash for your old car.
We do care for our potential customers in Edmonton. Customer satisfaction is our business objective. So we assist you with the correct suggestion in disposing your car and help you in clearing the unnecessary throng at your garage space. We believe in keeping the environment clean and green. So we use eco-friendly methods for disposing the vehicles with utmost care. Sometimes in some case we do provide free junk car removal and free towing services to our customers. We can now be available to come to your premises at an easy phone call by you. Our vast inventory of old vehicle enables us to help our customers with any make and model vehicle. If you are searching for recycling your vehicle, then congratulate yourself as you are lucky enough, your search ends here. We do proper recycling of your wrecked vehicle, junk autos, scrap cars, flooded cars, totalled vehicles and any accident auto in Canada.
We are glad to serve our customers in need of disposing their old clunker. The scrap cars are disposed of with care and diligence with no damage to the green environment. In our auto yard, you can easily get a spare used auto parts for almost every vehicle.
So don't think too much about the old car lying idle in the corner of your garage. Come to us. We will make you happy with a pretty good cash for the old clunker. We do the disposing activity sustaining the environment. So discharge your environmental responsibilities and dispose your old car. We will take care of the entire process of auto recycling the vehicle.
Our efficient staff force is expert in extensive used auto parts, used engines, used auto transmissions, used car parts, used truck parts, automotive parts. We deal both the domestic and imported car parts in our inventory in Alberta. You can come with any type of model be it car, truck, van or SUV.
You will get the most cash for used autos in Alberta. Thus we find new customer and retain the old links. Our goal is to make our customer happy in all cases. We are the most leading player in the automobile industry. We buy all types of vehicle may it be a car, vans, trucks, SUVs, motorcycles and small business vehicles. Our customer gets highest resale value for their old vehicle.
We are fast enough in our services. We provide our customer easy and fast services without wasting much of their valuable time. We are available at easy phone call and recognized for timely services. We value our customers and make them satisfy in every situation. So call us now for all your damaged car removal services and any wrecked car towing services required in Alberta.